Meaningful connections start with remarkable creative
Proof it works
BEST BUY
Holiday Deals Discovered
How could a leading consumer electronics retailer drive interest and purchase intent for featured products leading up to and during the 2022 holiday season?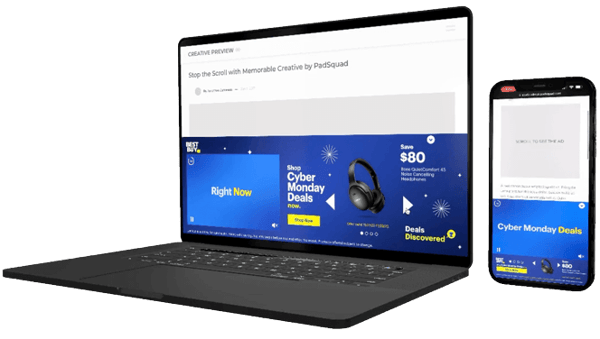 The Solution
Our creative strategy was to reinforce the retailer's limited time deals along with ease of product discovery and purchase online through interactive video creative across desktop and mobile devices. We leveraged six interactive video ad formats - each designed to capture attention and elicit action through different interactive elements such as interactive product cards and carousels.
The Results
This 2022 holiday campaign harnessed the power of interactive video to drive engagement and holiday shopper intent.
The suite of video formats combined to deliver website traffic 3x over the industry benchmark, a 2.5x higher engagement rate, and a 16pt lift in brand preference over the competition!
2.5X
Engagement
rate benchmarks
16pt
Lift in brand preference
over the competition
Are you ready to have remarkable creative?