5 min read
4 Ways You Can Obtain High-Impact Ad Results With Interactive Video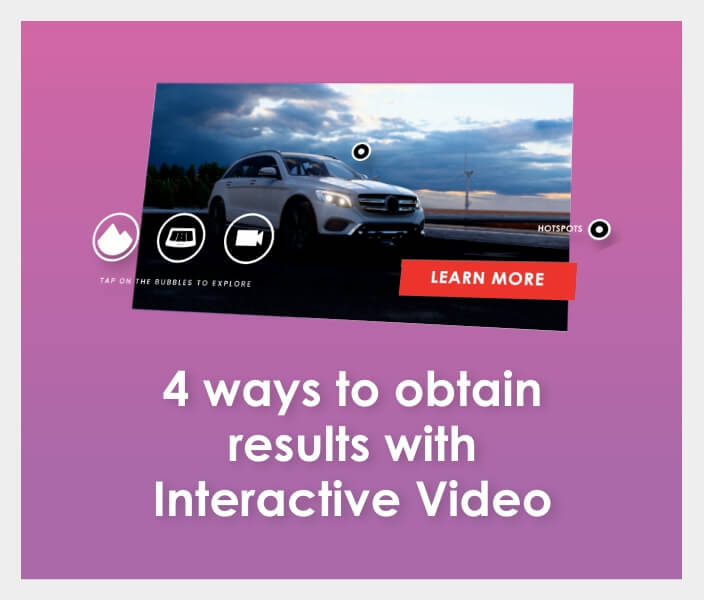 These days, interactive experiences are an expectation. With the rise of "Instagram worthy" and TikTok-able outings like interactive pop-up shops and selfie museums, the digital and physical worlds have converged, and citizens have grown to expect nothing less than immersive experiences.
It's been almost 30 years since advertising made its way to the internet, and we've seen huge technology advancements, so why haven't Brands fully embraced these interactive technologies? When we look to the future of digital and mobile advertising, interactive experiences should be at the forefront of all savvy marketers' minds. And while those using rich media have made a leap forward, it's time for digital video to catch up!
Anyone from a micro-influencer to a Fortune 500 company can produce a 30-60 second video ad that is well thought out, branded and effective. But is effective good enough in a world that increasingly expects more from digital and interactive experiences?
At PadSquad, we think not.
When it comes to how interactive video ads work, the data speaks for itself. In a 2021 survey by Spott, 73% of marketers agree that interactive content enhances message retention.
Building on a decade of experience in digital, we've reimagined the capabilities of digital video advertising. We now offer brands the ability to add interactive features to their video assets through our new Interactive Video suite.
While there are infinite possibilities for interactivity, here are four ways we've taken learnings from high-impact display and are applying them to a new world of Interactive Video advertising:
1. Product Hotspots
Any savvy marketer knows the key to an effective advertisement is a clear call-to-action. As marketers begin to explore the use of interactive ad features, product hotspots are one of the quickest and most intuitive ways to make a consumer call-to-action clear.
Take this H&M ad as the perfect example of this feature at work. Viewers who scroll through online content and encounter this ad can immediately decipher which products are available and at what price.
Additionally, the hot spot overlays have the ability to bring viewers directly to the product page for the listed items, making for a seamless shopping experience.
While this format is effective on still images, it's even more impactful within video advertisements. If we reimagined the H&M ad and included a video of the model walking to demonstrate how the clothes move, shoppers not only have an idea of what they can buy, they could visualize how the clothes would wear as they move.
This feature is easily adaptable and aesthetically pleasing to the eye – making it one of the simplest ways to demonstrate an interactive call-to-action.
---
VVital Connected TV - Genesis GV80
2.
Overlays and Visual Effects
Interactive overlays and animated effects are some of the most engaging ways to enhance brand assets and stay ahead of marketing trends. By inserting quick illustrations, animated pop-ups, and visual flare, we can grab attention and stimulate the brain, making effects the perfect interactive asset to bring to advertising.
Visual animations can include interactive branded overlays, 3D effects, stickers, custom graphics, fonts, etc. Check out the embedded Oreo Interactive CTV ad to see what we mean.
Of course, the use of a celebrity like Wiz Khalifa catches the attention of viewers, but more importantly, the video of him and his son enjoying Oreos pulls on the heartstrings of the viewer. The added animated assets accentuate the shared moment and make the ad more engaging.
Adding overlays and visual effects allows branded content to loop on-screen while keeping it interesting and hard to miss for consumers viewing the ad online.
This impactful approach to enhancing video ad creative enables brands to stay on trend without having to shoot all new video assets. Using technology and creative partners like PadSquad to efficiently stay competitive – which in return creates more memorable consumer experiences that are hard to forget.
Overlay Connected TV - Oreo
3. Shoppable Carousels
When Instagram dropped the carousel post format in 2015, it undeniably shook the internet. Posting a content carousel changed consumer behavior and how brands create digital content.
While consumers rave about the feature, savvy marketers have adapted it for their digital advertising across platforms and created new interactivity opportunities. While carousels and left-to-right swiping have been staples in rich media creative for display ads, PadSquad is now bringing this interactivity to video ads.
Shoppable carousels allow advertisers to display multiple items simultaneously and communicate brand messaging or product availability. Take a look at this Jockey demo to see how we are easily an interactive carousel that enhances a standard video.
In this example, viewers enjoy broadcast-quality video while seeing featured products in motion and on models within the advertising spot. In the foreground, shoppers can swipe through a carousel of items they see on the screen.
This form of interactive advertising boosts sales by allowing the shopper to simply tap the item in the video to "add to cart" with ease.
4. Live Polls Over Video
Live Poll features are a prominent feature within social channels enabling consumers to interact and engage with brands and/or creators on their preferences, what influencers should wear, or which flavor drink they like best.
Like carousels, PadSquad's live poll functionality has been brought from social media to an interactive ad experience for paid media; incorporating Live Poll into ads helps a brand better understand how their target consumer feels or what they want. With the introduction of Interactive Video, marketers can bring this same connection to consumers through digital video advertisements rather than relying on social channels.
For example, if a travel destination like a resort in Colorado wants to engage with consumers to see if they would enjoy a snowy vacation, they could pose a poll asking: "Do you skiing the mountain or sipping coffee by the fireplace?"
This interactive poll placed on top of a video allows personalizing the ad experience and messaging based on how the consumer interacts. The video viewer's call to action and messaging can match their preferences and encourage them to act.
The practice ultimately allows both the resort and the consumer to gain value from the interaction, providing better ad spending ROI by improving click-through rates and unlocking invaluable insights into consumer preferences.
The Big (Interactive) Picture
Leveraging video formats that offer interactivity, like enhanced overlays or live poll functionality, are just a few ways to improve your digital video advertising initiatives.
The clock is ticking, video advertising experiences for mobile and digital channels are evolving and standard video is being replaced with something much more engaging.
As the digital world increasingly craves interactive experiences, it's important for marketers to take the time to adapt. This allows brands to expand their creative reach while meeting growing demand and staying ahead of emerging technology trends.
Interested parties who want to learn more about Interactive Video offerings can email sales@padsquad.com.