High impact creative made shoppable with AdCommerce™
Quickly launch campaigns in just 24 hours to drive retailer, brand and product consideration and sales and leverage closed-loop measurement powered by MikMak to optimize performance.
AdCommerce™
WHERE ADVERTISING MEETS COMMERCE
PadSquad's end-to-end shoppable advertising solution includes powerful hot-spot and add-to-cart technology in addition to sales measurement, making it easier than ever for advertisers to engage and convert shoppers.
SHOPPABLE HOTSPOTS
Shoppers can tap to expand the hot spots, revealing product info as well as a prominent CTA to "Shop Now," driving shoppers to the product landing page on the retailer's site to shop.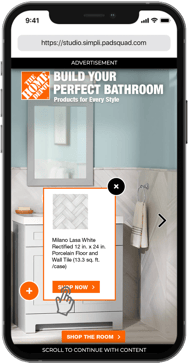 Click2Cart® CART INJECTION
Make a direct impact on the path to purchase by enhancing your digital creative with Click2Cart® powered by SmartCommerce. Add featured products directly to online retailer carts with a single click and receive robust reporting to measure ad engagement and cart transfer values.
SMARTSHOP CART INJECTION
Add contextually relevant products like ingredients for a recipe, full skincare regimens, party supplies, and more to online retailer carts with SmartShop, powered by SmartCommerce.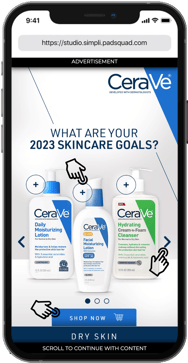 Branded Storefronts
Branded Storefronts, powered by MikMak create an opportunity for consumers to choose what and how they want to buy in a branded environment while supporting:
single or multiple products

selection of SKUs and product quantity

inventory management and substitution control
Measurement and Sales Insights
Get visibility into the shopper journey, starting with the creative all the way through to purchase.
view performance based on the metrics that matter most
Total Revenue

Units Sold

Average Basket Size

Average Order Value

Average Unit Price

Product Preference

Geo/Device Breakdown