10 min read
SXSW 2024 PanelPicker Is Now Open: Vote for PadSquad!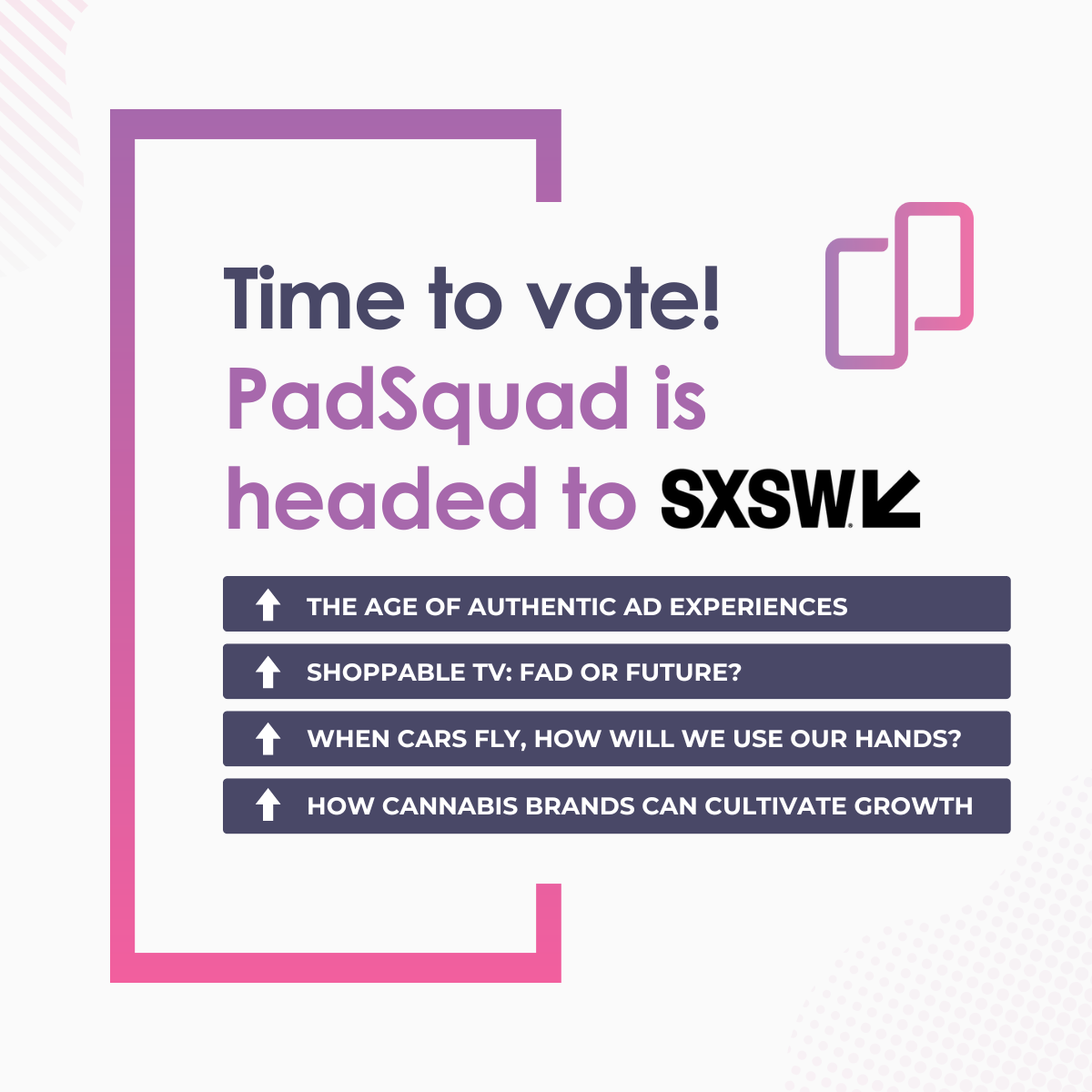 SXSW Interactive is where creative minds from all over come together to share ideas, spark innovation, and discuss the latest trends in tech, media, and marketing.
With PanelPicker community voting, SXSW offers an opportunity for anyone to submit a proposal for a panel, workshop, or talk. The community then votes for their favorites, and the winners get to present at the festival. We're thrilled to share that we have four submissions in the running for SXSW 2024, covering topics ranging from authentic ads, shoppable TV, navigating cannabis ad regulations, and the future of transportation and its impact on brand experiences. Below you can find a snapshot of each submission and links to where you cast your vote!
As a reminder, voting requires a free SXSW account, but the process is simple and should only take ~30 seconds. Registration and then clicking the "Vote Up" button on your preferred panels by August 20th. We'd love to bring these panels to life and are grateful for your support. Let's make SXSW 2024 the best yet!
#1: The Age of Authentic Ad Experiences: Representing Each of Us ⬇️

Description:
Brands know that representation in advertising matters, but we are far from getting it right. Consumers want to be recognized as the individuals they are and the communities they represent. Personalized advertising helps brands do exactly that, and when done right, consumers notice and respond favorably, creating lasting impact for brands. In this session, we'll discuss the how and why of personalized ads and share success stories of how leading brands are seeing 5X more ad engagement with meaningful creative that gets representation right.
Takeaways:
Ad targeting and placement are important, but ensuring consumers see themselves in and with the brand is at the heart of campaign effectiveness.
Creative development and asset creation can be daunting. By leveraging emerging technology and data brands can personalize campaigns in real-time.
Brands need to fill the gap between knowing customers and telling brand stories that speak to their passions and needs using audio, text, and visuals.
Panelists:
Erica Jones, Senior Manager, Cultural & Inclusive Marketing, Kellogg
Walter Geer, Chief Experience Design Officer, VMLY&R
Jerry Daykin, Head of Global Media, Beam Suntory
Moderator: Lance Wolder, Head of Growth and Strategy, PadSquad
#2: Navigating Cannabis Regulations to Cultivate Brand Growth ⬇️

Description:
This interactive presentation will teach you how to navigate cannabis marketing regulations to unlock your brand's unfair share of attention in a highly regulated industry. Attention that's measurable and leads to growth. Ready to tap into your right brain? Through real world examples and case studies, we'll explore the possibilities of unleashing your creativity and building a brand identity, while still adhering to those important regulations. Nearly 85% of U.S. states have legalized cannabis in some capacity - it's time to let cannabis advertising shine.
Takeaways:
What you legally need to avoid when developing ads for cannabis brands.
What you can legally and creatively include when developing ads for cannabis brands.
Creative best practices for driving campaign effectiveness and brand recall for cannabis brands.
Presenters:
Alex Parker, VP of Marketing at Sunburn Cannabis
Lance Wolder, Head of Growth and Strategy, PadSquad
#3: Shoppable TV - Fad or Future? ⬇️

Description:
The promise of merging television and e-commerce represents a significant opportunity to reduce friction on the path to purchase. However, is Shoppable TV merely a passing fad, a golden goose, or does it signal a more profound shift in consumer TV viewing and shopping habits? Our panel examines the potential of the future of TV, while dissecting current challenges, to provide insights into its long-term viability.
Takeaways:
The future is now as streaming giants like Peacock, Roku and Walmart are innovating to bring shoppable ads to consumers now.
Shifting consumer behaviors is half the battle, retraining viewers is a core challenge to the industry.
Don't wait and see. Test the technology that currently exists (QR codes, dynamic messaging) to accelerate your approach to fully shoppable TV.
Panelists:
Julian Zilberbrand, EVP Advanced Media, Paramount
Rachel Tipograph, Founder & CEO, MikMak
Moderator: Lance Wolder, Head of Growth and Strategy, PadSquad
#4: When Cars Fly, How Will We Use Our Hands? ⬇️

Description:
Imagine a future where cars autonomously roam the sky freeing passengers to embrace productivity, entertainment, and social connections. In July '23, the FAA certified the first flying car, which when combined with AI and cutting edge route mapping, clears a path to a new era of travel. We'll explore the impact of hands-free transportation on human behavior and look at how brands can fuel a shared transportation economy. Together, let's envision a world where cars become dynamic spaces for nurturing family conversations or hubs for brand experiences and content. It's all closer than you think.
Takeaways:
The future of hands-free transportation is here, what we make of it is what matters.
Envision cars as dynamic spaces nurturing shared experiences and meaningful conversations.
Discover the potential for innovative advertising solutions that fuel a shared transportation economy.
Presenters:
Kaleeta McDade, Chief Experience Design Officer, YMLY&R
Lance Wolder, Head of Growth and Strategy, PadSquad